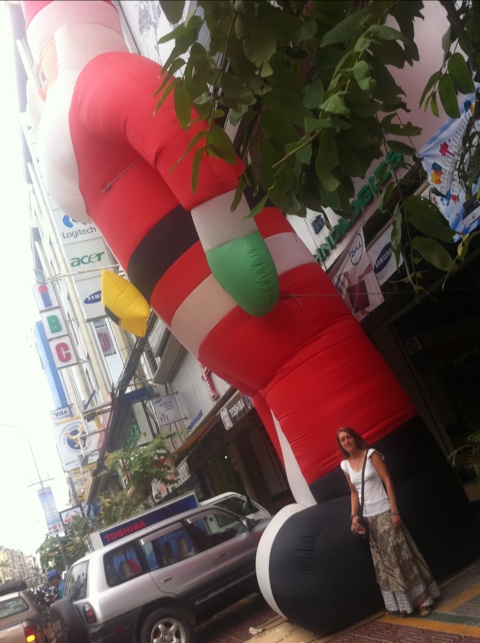 Hello!
We're back on the road again after a wonderful couple of weeks with the fantastic Michael Carroll in Kampot. We're now in Phnom Penh, and tomorrow we'll be heading to Siem Reap and the temples of Angkor Wat before journeying onward to Thailand and finally Malaysia.
Kampot is a lovely crumbling dusty old colonial riverside town with a peculiar abundance of tourist-friendly guesthouses, restaurants, cafes and slightly more strangely, roundabouts. Its the quiet charm of the town itself and not any nearby monument or beach that's the main draw – and given that, we were surprised at quite how many tourist facilities there were, almost all run by a sizeable bunch of expats enjoying the quiet life. This was all the more strange given there was practically nobody around when we first arrived – the high season has been slow to pick up this year, in part due to the financial downturn, and in part the flooding in Thailand.
What the town lacks in specific tourist sites was more than made up for by our fabulous host Mike, who set us to work variously on cycling adventures, kayaking through mangrove swamps, playing crazy golf, and eating fresh blue crab in the seaside resort of Kep. On a number of occasions on the water, we were treated to the sight of flying fish. In the river by Kampot we saw shoals of thousands of small silver fish leaping out of the water in unison at sunset, a spectacular sight. On the way back across the bay from Rabbit Island, a single larger fish crossed the path of our boat at high speed and seemed to walk – or perhaps run – on water for 50m or more, tail wagging furiously to propel it along.

Rabbit Island was our destination for one day trip, a tropical paradise in the Gulf of Thailand, and home to the best beaches in Cambodia. In our first bit of sunbathing since India, we spent a lovely day as some of only a handful of people on the stunning white sand facing out into the turquoise blue ocean. The panorama was capped off by palm trees, distant islands, and a classic rickety bamboo pole jetty that looked amazing silhouetted against the bright sea. One of those distant islands was the Vietnamese territory of Phu Quoc, a mere 15km away but tantalisingly out of reach for the second time on our trip – we nearly went there from Ho Chi Minh City two months ago. We did however visit our first Cambodian geocache, with the chance to drop off a 'geocoin' Laura's been carrying since visiting Spain with her family before we left home.
We had a bit of a panic on the way back when we stopped for lunch while waiting for our boat. It turns out that grilled fish takes quite a while to prepare, and as the seconds ticked down to our boat leaving, our lunch still hadn't arrived. Fortunately, in true English style we were able to get it converted into a takeaway with which we ran to the departure jetty. The only thing missing was chips – fish and noodles doesn't quite cut it, although using chopsticks to fillet a fish is always an entertaining exercise!
In our original plans for the festive season, we'd been hoping to rent a place where we could self-cater and have some independence for the first time since we started out. We even had dreams of cooking our own roast! Alas, that was not to be, but instead Mike introduced us to a home from home in the form of the 'Ny Ny Hotel', cheap but with a touch of luxury – our room even had a fridge to keep the all important sparkling wine and cheese cool! We had a small incident with scores of bed bugs on the first day, but after relocating to a different room, it was a brilliant place to call home.

For Christmas Day itself, Laura and I both went on a not-so-secret secret santa present buying mission at the market, each with $10 to spend, to great success – purple nail varnish, a pool table, kick-shuttlecock, earrings, bubble mix and even chocolate and a movie rental. I'll leave it up to you to work out who got what, but no, purple isn't really my colour! Thanks to a shop selling stripy ski socks, we even had a couple of stockings for the presents themselves. Accompanied by our previously broadcast decorations and tree (made from recycled water bottles), I think it's fair to say the hotel cleaning staff were impressed at our festive efforts! Although Christmas isn't marked by Cambodians, there were a fair few decorations and lights around town (even a huge inflatable Santa in Phnom Penh), and, interestingly a surprisingly large number of weddings going on. Weddings here involve big marquees in the street and music blaring through the night – revellers who certainly added to the festive spirt!
No Christmas is complete without feeling you're going to explode through overeating, and so we went to extra effort to find the biggest Xmas lunch around. I haven't eaten so much in a very long time – there was so much food we were given two plates each! Thank you Blissful Guesthouse!

Amid the chocolate and presents it can sometimes be a little hard to remember that Christmas is a time for family and friends to come together. We had a lovely catch up with our families via Skype before, during and after the festivities. It was also really fantastic to able to spend time in person with Mike, as an old friend of mine and a new friend of Laura's. He's out in Cambodia working to set up a non-profit project, FotoKhmer, which is still in development so I won't let the secret out just yet. Needless to say, when it does happen (and I'm sure it will – look out for more later this year) it will be a really exciting and positive venture. Mike has spent many previous years working with photography in Cambodia, and across South East Asia and has brilliant plans. Although we sadly weren't able to actually kick things off while we were there, I hope to be able to come back in the future and lend a hand doing exactly that. Mike – sorry the real Christmas present is slightly delayed!

Our final night in town was New Year's Eve, which we marked in style by eating a delicious dinner, going to a bar for the first time in, well, months, and then popping champagne at midnight and singing Auld Lang Syne badly while watching fireworks go off by the river – and occasionally right by us due to their somewhat unorthodox approach for launching them – by hand!
We're both hoping for a New Year of more flying fish, friendships and full plates ahead – and all before the Olympics! Bring on 2012!
Simon