Category Archives:
Before the trip
So that's it then! After far too many (but superb) leaving drinks, last suppers and last-ditch attempts to buy a poncho, we're off.
Thanks to all for making this happen – it's been a fair time in planning, and there have certainly been a few moments over the past few years when I've been tempted to stay. In light of the recent financial turbulence I'm all the more pleased to have left the world of MRMA – although perhaps slightly sad to not be caught up in the adrenaline of crisis management and stress tests!
We fly from Gatwick at 2:30 today, and Laura and I are both en route to the airport. We have a delightful four hours in Dubai at some unearthly hour, and land in Beijing at 3pm local time, after two 7 hour flights.
Any tips for China or Nepal, folks? Local customs we should get in on? Mark's already supplied me with guidance on the nightlife in Beijing, so it could prove an exhausting week!
And in case you're wondering, below is what the inside of a I'm-going-away-for-a-while bag looks like. Hope I brought enough socks!
Now, if I can just find the Mandarin for 'ice cold beer' I'll be sorted…
Simon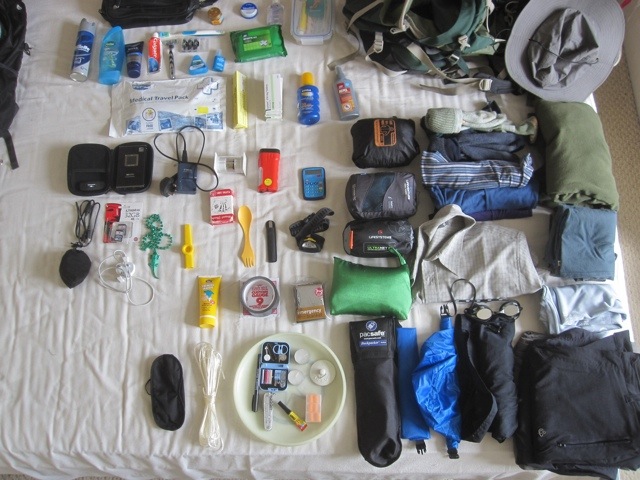 A strangely appropriate way for a programmer to start a travel blog!
We're off in nine days time, and while Laura suns herself in Spain (got to have one last holiday before the chores of travelling), I'm putting together this blog, and realising that there is still much to do before getting on a flight at Gatwick a week on Monday.
I've just come back from the glorious (if somewhat manic) CoCamp, and am beginning to feel a bit more normal after a day of sleep.
Next up, shopping…
Simon