I'm writing from the train, where we're just beginning our 18 hour journey down to Mumbai en route to the south. It feels a bit like the post-Christmas blues; we've just had a great party complete with brightly coloured lights and fireworks, eaten sugary and richly flavoured foods to our heart's content, and are once again leaving the familiarity of a place we know for the adventures of the future. On the other hand, it isn't freezing cold, there isn't mind numbing Christmas muzak blaring from the shops, and there are beds for 84 people packed into just this carriage!
Just before we returned to Jaipur for Diwali, we stopped for a couple of days at Sawai Madhopur, gateway to the Ranthambore National Park (and not much else except a few hot dusty streets). The National Park is famous for its tigers and billed as one of the best places to see the country's dwindling striped cat population. Alas, it was not to be for us, with fresh tiger prints in the dirt road the closest we got to the park's 35 ginger inhabitants – although we did see plenty of deer and peacocks as well as a water buffalo and blue bull (which we both thought was initially some variant of the bluebell flower).
We did however manage to get tangled in a farcical piece of Indian red tape on our way to see the hiding tigers. We were in an open top bus (called a canter) with 18 other tourists, most of whom were Germans in a tour group from a luxury hotel. Our place had warned us to bring passports, but it seemed theirs had not. So when we arrived at the gates to the park, instead of 'spot the tiger', a game of 'spot the German' ensued, in Hindi. The park security person came onto the bus, and proceeded to do a role call, but didn't have full names for people. We were able to cope with identifying ourselves as 'Laura' and 'Simon', but between the poor pronunciation, quiet voices and lack of complete names, most of the German group were unable to identify themselves, and took to shouting a response of "forename or surname?", which didn't help since nobody knew. On the odd occasion that a link was established between face and name, they would be asked for their passport, at which point they would usually shrug and say 'hotel'. The person calling the register would look bemused like this had never happened before, scribble something on a bit of paper and the game would begin again. Occasionally they'd also shout the name across to the bus nearby with the other half of the German group on board, but to no avail. After a while, they'd apparently get fed up and leave, only for someone else to come on 10 minutes later and start afresh. I think we played five rounds of 'Ranthambore Guess Who' before someone somewhere in officialdom finally conceded and we were waved through. Note to anyone wishing to play themselves – as we found out, the game is best experienced when you've paid a fortune to visit somewhere for a fixed timeslot, which is rapidly running out! We did briefly wonder if they were simultaneously subjecting the tigers to the same rigmarole on the other side of the fence and it was actually stress ("Where's stripey? Forename or Surname? Passport?") and not poachers causing numbers to reduce. Unfortunately we didn't see any to ask!
Diwali is known as the festival of lights, and in terms of significance at least it's probably best thought of as an Hindu equivalent of Christmas. Buildings are decorated with strings of colourful lights, families and friends come together to celebrate, sweets and rich food are shared, and everyone seems to be in a good mood.
We were staying in a fantastic rooftop room at a guesthouse – with windows on four sides (if you include the bathroom), and our very own bit of roof from which to watch the city. Jaipur is famous for its Diwali celebrations – almost every building seems to be decorated with bright lights, and the city holds a competition for the best. The streets themselves are also adorned with colourful lights and decorations – including lots of tinsel, which glitters brilliantly in the daytime sun. And as if that isn't enough to make the place festive, loudspeakers everywhere are blaring out Hindi music, and there are all manner of stalls – with sweets, nuts, garlands of flowers and sugar cane juice.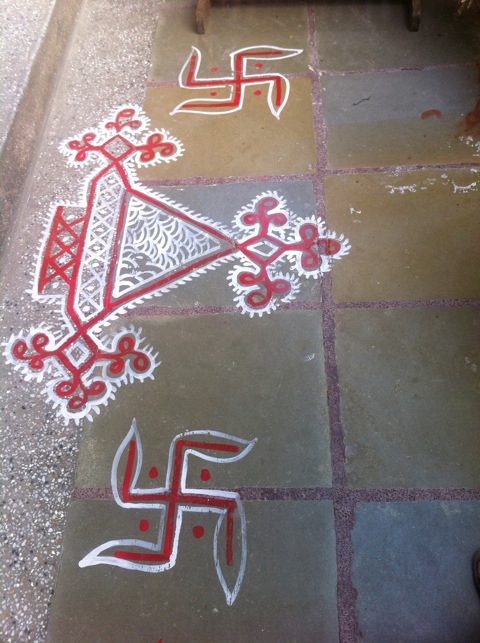 The festival lasts five days, and we were in town for the two biggest days in the middle. At the start, the floor outside people's houses is decorated with painted motifs in red and white, and we also saw chalk versions of these in the streets. It really gets special when it gets dark, as alongside the strings of lights, hundreds of small oil lamps are lit – tiny clay pots filled with oil with a wick burning through the night. Diwali literally means 'line of lights', and their twinkling glow marked out the perimeter of every walkway and rooftop around in a beautifully simple and romantic way.
Diwali's also the time when people traditionally get new clothes and then wear them out for the first time on the main night, Amavasya. Laura took the chance to do exactly this, and we spent an exciting afternoon Sari shopping, which she wore that night to much acclaim – I'm sure she'll tell you all about it!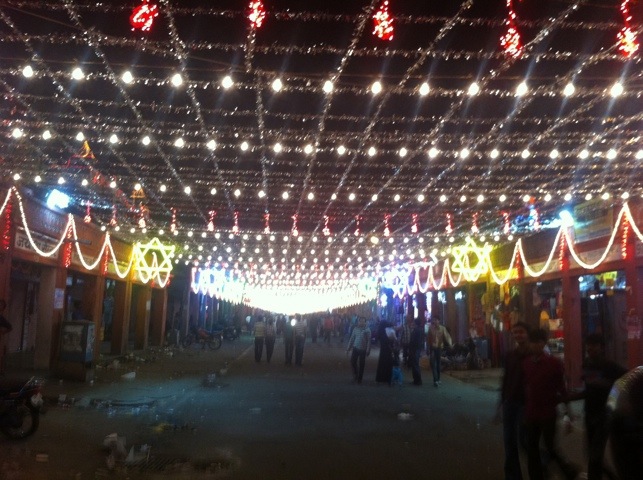 Dressed up for the evening (I wore a shirt for the first time in ages!), we joined what felt like the rest of the city on a walk around the old town and bazaars to admire the lights and be blown away (fortunately only figuratively) by firecrackers. The colourful neon decorations on some of the bigger shops in town were amazingly kitsch, and the highlight in the centre was a couple of detailed freestanding facades made from fabric and scaffolding, brilliantly illuminated in ever-changing colourful floodlights. Coupled with an effervescent atmosphere filled with yelps of excitement from children and frequent pops from garlands of bangers, it really was something special.
We concluded our festivities – and time in the north – sitting out on the roof of our guesthouse and marvelling at the continuous firework display rising from the city around us. I don't think either of us have experienced anything quite like it – probably 5-10 fireworks going off every second illuminating the panorama. We joined in with our own sparklers on the rooftop, followed by some delicious indian sweets (truly meeting the description 'sweet'), before drifting off to a sleep punctuated by sounds of firecrackers and sirens from fire engines visiting the less fortunate participants of the evening's fire show.

So we bid goodbye to the north of India, and begin a long journey south. It's strange to think now that a few weeks ago we were even thinking of abandoning India early – and that we have only a little over a week left before moving on to Vietnam.
Seeing all the fireworks made me realise that a world away back home, it's nearly bonfire night – so all the best for the 5th November to everyone back there, and especially those of you gathering in Lewes – I'll be thinking of you!
Simon