Apologies for taking so long to get this post out, I didn't quite finish it on our flight home and then my whistle stop tour of the UK got in the way!
Although we've raced through these two countries in little under three weeks we've still taken our time to sample their culinary delights, our last taste of South East Asia. Among the dishes that our tastebuds have been acquainted with in this part of the world are:
Thailand
Thai curry
I think you'd be hard pressed to find a restaurant in Thailand that doesn't have Thai curry on the menu.
Whilst these curries share a common base of spicy curry paste (the main components of which are chillies, shrimp paste, shallots, galangal, lemon grass, coriander root, turmeric and kaffir lime peel lovingly pounded or blended together) and coconut milk, there are a delightful range to choose from. Red, yellow and green curries are probably the most ubiquitous and mainly differ in levels of increasing spiciness. If you fancy a blow-the-roof-off-your-mouth dish then try a jungle curry which has a serious kick. Other variants include the mild massaman and the peanutty phanang curries. With such an array of curries to try it's surprising that we managed to eat anything else!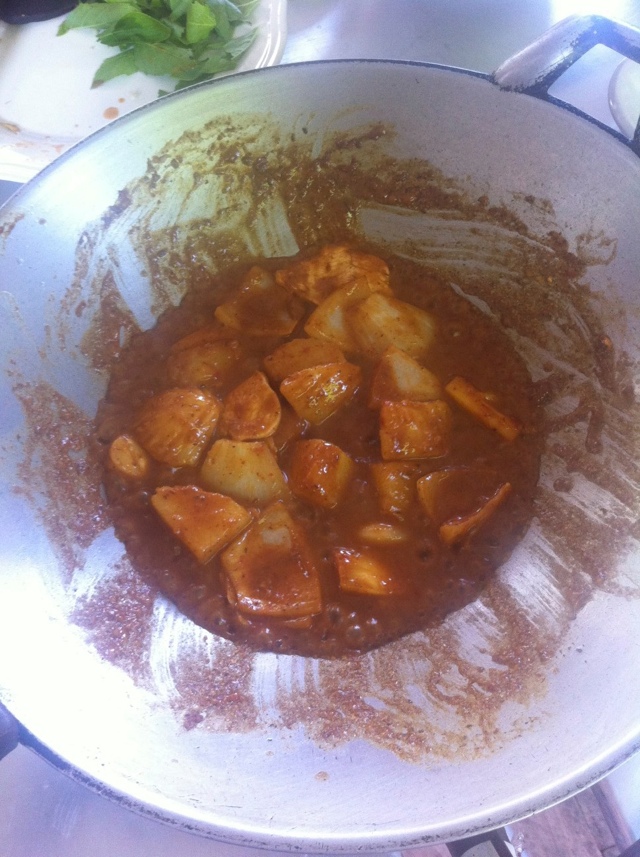 Pad Thai
This probably jostles with curry for the most popular Thai dish. Pad Thai is an incredibly quick and easy dish to cook: flat noodles fried with egg and vegetables in an oyster- fish-soy sauce. Definitely a good meal to grab on the run.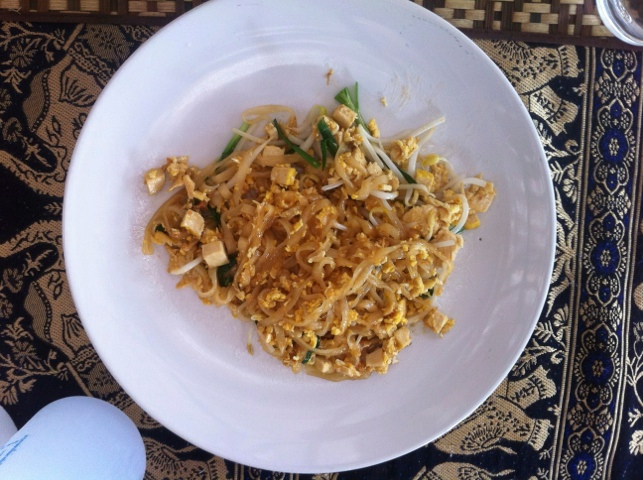 Drunken noodles
Drunken noodles are disappointingly alcohol free (yet still tasty). This is another noodle stir-fry that varies from Pad Thai mainly in the thickness of the noodles, with wider noodles and spicier sauce characterising this dish.

Tom yum
Tom yum is a delicious and surprisingly filling hot and sour soup. The fresh fragrance of lemon grass and kaffir lime leaves makes your mouth water as you bring the spoon to your lips, taking your first slurp you are immediately hit by the sourness of the lime juice, saltiness of the fish sauce and spiciness of fresh chillis and a delightful warm feeling as it slides down.

Noodle soup
This dish is fairly ubiquitous throughout Eastern Asia but has only featured now as we found a fantastic (and incredibly cheap at 35 Baht – 70p) noodle soup stall. So impressed were we by the fare served up by the lovely Thai lady at the place that we ate here three out of the four days we spent in Bangkok! This dish is pretty self explanatory, a chicken broth with noodles, vegetables, and in the case of our favourite stall pork balls (made to a forty year old recipe) and wontons. It's even better when seasoned with fish sauce and chilli flakes.

Malaysia
Many thanks go to Pey Shan's mum who cooked most of the food we ate whilst in Malaysia and who welcomed us into the family's Chinese new year feasts. Everything she cooked was delicious and we certainly didn't go hungry!
Steamboat
A steamboat is essentially the same as the hotpot described in my earlier post on Vietnamese food, a constantly heated broth to which all manner of meat, fish balls and vegetables are added and which you help yourself to until you've had your fill. We enjoyed the true family steamboat experience on Chinese New Year's Eve with the family gathered around the table, dipping into the steamboat at will and with several sittings to accomodate all the visiting family members, guests and their appetites!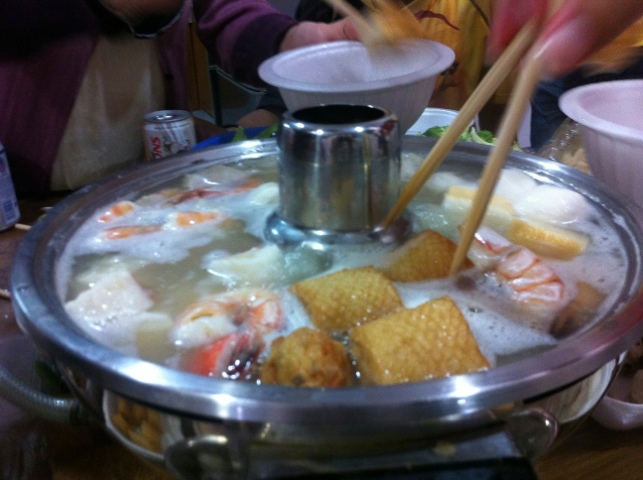 Smoked duck
Our New Year's Eve steamboat was accompanied by strips of smoked duck. These tasty morsels of meat can be wrapped in a lettuce leaf, tempering the strong smoky flavour of the duck and adding a refreshing crunch. This delicious delicacy was definitely a welcome first for us.

Suckling pig
On the first day of the Chinese New Year we again gathered around the table with Pey Shan's family for some steamboat but this time accompanied by the pièce de résistance, roast suckling pig! Another delicacy for the occasion, the crispy skin of the roasted piglet is delicious when dipped in plum sauce.

Chinese salad (prosperity toss)
Another special dish that we experienced on the first day of the new year was a salad of shredded vegetables, smoked salmon and a sweet sauce, tossed high in the air by all members of the family accompanied by cheerful wishes for the year ahead.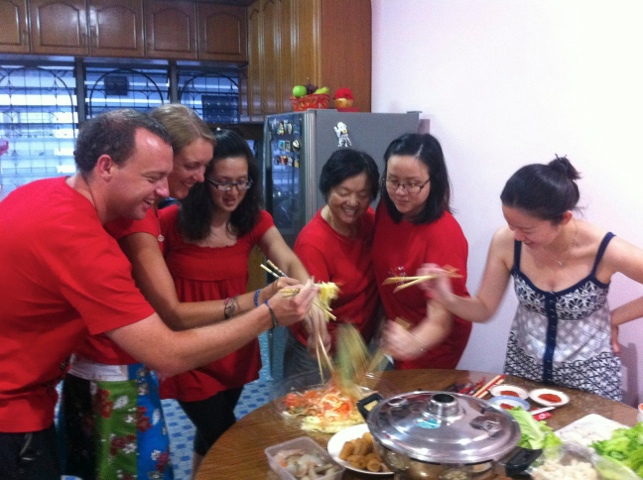 Roti Canai
Malaysia is a real melting pot of races, something reflected in its food. Whilst the dishes described so far have been mainly Chinese, Pey Shan was also keen for us to try some traditional Malay food. To this end we sampled Roti Canai, a flaky pancake type bread, similar to the Indian paratha and enjoyed by dipping in a curry sauce. Another variant (I believe) of this bread was fried and rolled into an upturned cone, draped in strawberry and chocolate sauces, providing a sweet snack or dessert.
Laksa
Laksa is a fantastic curry noodle soup with a good lashing of spice, often served up in hard to finish quantities!
Rotiboy buns
The smell wafting out of a Rotiboy stall promises that a treat is in store. These scrumptious little buns are best sampled straight from the oven, with a sweet crunchy outside giving way to the soft fluffy interior and molten butter centre that will always leave you wanting more.

Theobroma hot chocolate
The best hot chocolate in the world. There's really not much more to say as words simply will not do justice to this mug of chocolate heaven. I'm just sad that this chain originating in New Zealand hasn't made it out to Europe yet!

And with that we say goodbye to the intense flavours and spices of Asia and look forward to a new culinary adventure in South America…
Laura