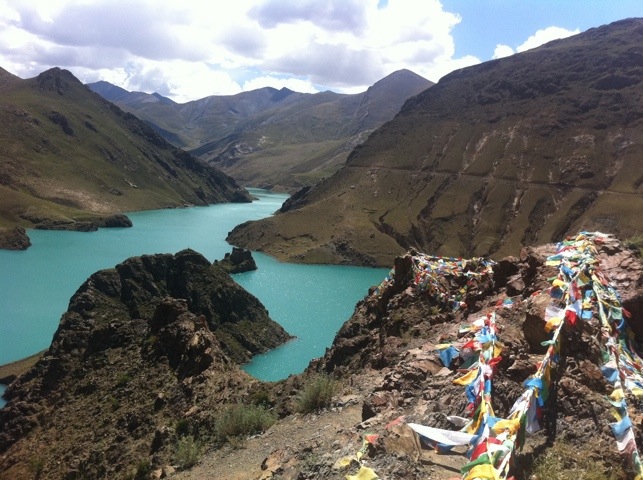 Hillsides with gleaming white stone Hollywood-style inscriptions in Chinese; tiny grey nomadic stone huts nestled amid flocks of shivering sheep; wide open valleys with dry river basins the size of the Thames waiting to be filled with the spring torrent of snowmelt; and high mountain passes strewn with colourful prayer flags looking down on cloud-filled valleys and a panorama of towering white peaks. This is the land of the Himilayas.
That's my best Michael Palin impression – but this truely feels like an epic journey. We've been on the bus since 6:30 this morning, and should get to Everest Base Camp (Tibet side) late afternoon. We've had the sun rise behind us and are now progressively gawping at a landscape that switches between passes covered with a dusting of snow and green valleys with small villages nestled between rocky outcrops.
Every now an again the bus slows to a shuddering halt as the driver navigates a section of road where the water has washed the surface away and the potholes outnumber the tarmac. Occasionally we're passed by a high speed convoy of white four wheel drive vehicles, led by police.
We've stayed at various towns along the way from Lhasa, all unfortunately fairly lacking in charm thanks to concrete block buildings and identikit tibetan/chinese/western combo restaurants. Fortunately the landscape, monasteries and colourful and friendly local people more than make up for the residential architecture.
I think it's fair to say that we have temple fatigue. Each day we've seen one or two temples or monasteries, each unique but also with very much in common – or to use the Asian phrase, 'same same but different'. They are stunning, and I think we've learnt quite a bit, but they do tend to all roll into one in the mind.
The entrance doors – big, sturdy and red, surrounded by the four guardians, either statues or paintings. Facing south, because evil spirits come from the north. Inside, a yellow glowing light from hundreds of yak butter candles, being topped up by pilgrims from flasks. Then the Buddhas and Bodhisattvas, lined up and decorated with all manner of colours and gold. We've seen: the largest sandalwood buddha in the world (27m high, apparently from a single piece of wood), a massive copper Buddha (26m), laughing Buddhas, past, present and future Buddhas, those with 11 heads, 1000 arms, and pretty much anything your imagination can think of. Plus the tombs of all the Dalai Lamas and Panchen Lamas. Pilgrims often leave money, and so the area around each statue is littered with notes – entertainingly with some of the foreign ones on prominent display.
Some of the temples – and certainly the monasteries – we've been to have a protector temple, in which a devotee chants scripture while continually beating a drum to ward off evil spirits. And of course there are large brass prayer wheels everywhere, lining corridors, entrances and pathways.
Oh, and before I forget – Mandalas. Amazing artwork representations of the Buddhist universe in the form of sand paintings made by monks sprinkling coloured sand in an intricate design, forming a textured large piece. We saw some monks making one, with face masks in case they sneezed and ruined the whole thing!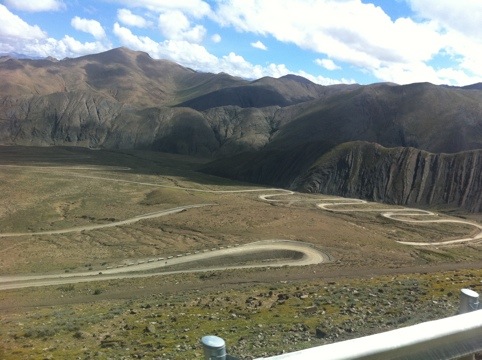 It's been interesting to see how these places of worship and living deal with tourists like us. Lonely Planet informs us that the Chinese authorities take the hefty entrance fee for each venue, and so the monasteries and temples are left seeking donations to survive. It's no wonder then that almost everywhere we went there was a charge to take photos inside – normally 25 yuan, or £2.50. It did seem somewhat amazing though that a monastery we went to yesterday had a fee of 1500 yuan for video cameras – that would be £150!
It's against this (understandable) backdrop of tourism for revenue that our impromptu and self-organised visit to a Nunnery yesterday was so refreshing. Guideless (and hence languageless), we made our own way into the assembly hall, walking round clockwise while a dozen or so nuns were chanting, sitting on their carpeted benches in the middle. As we were about to smile our goodbyes and leave, they invited us to sit with them, gesturing and laughing a welcoming greeting. We sat and they sang, they looked at our photos, and we all took photos together, with the nuns excitedly reviewing other places people in the group had been and particularly loving some photos of alligators. It actually felt like we'd shared something with them; a world apart from the monasteries.
The road to Everest is nearly complete, we've been going 9 hours now and in theory we should be able to see it shortly – if it wasn't for the clouds. The final 102km are the 'bad road', which is basically a dirt track over the mountains, with tight hairpin bends and fords through riverbeds. That has taken us 3 hours so far, punctuated by the occasional Chinese checkpoint where we all have to line up in visa order and have our passports checked.
The final 8km to base camp is on foot, which we're looking forward to greatly after being coupes up all day. Here's hoping for blue skies!
Simon