On our last day in Cambodia, Simon and I embarked on a quest to learn more about Cambodian cuisine and enrolled ourselves on a cooking course at Le Tigre de Papiere in Siem Reap. After a trip round the market familiarising ourselves with some of the ingredients we donned our chefs hats and aprons, and knife in hand began to discover the hidden secrets of some of the Khmer dishes that we've enjoyed over the past few weeks…
Amok
Probably the best known Khmer dish, Amok is a coconut curry flavoured with lemon grass, ginger, turmeric and chilli, the meat of your choice (most commonly fish), shredded vegetables such as Chinese broccoli, cabbage, onion -and in the case of our cooking class even oyster mushrooms. Traditionally Amok is served in a banana leaf bowl with a side of puns from Simon about "running Amok".

Lok lak
Lok lak is another popular Khmer dish, comprising beef, pork or chicken marinated and stir fried in a peppery tomato sauce, served on a bed of salad.

Saraman Kari
This curry differs from most others in South East Asia as the predominant flavour is peanut rather than coconut, this delicious curry also tends to come up a bit thicker than most.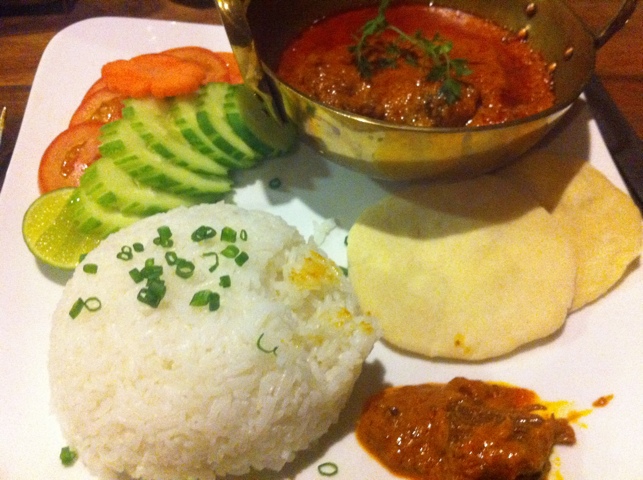 l
Kep crab
Whilst in Kep why not find yourself a platform strung with hammocks and relax, taking in the fresh sea air and ocean view whilst waiting for your blue peppered crab to be cooked? The fresh crab is cooked in a flavoursome sauce with spring onions, pak choi and fresh green Kampot peppercorns. A tasty seaside treat, but hard-earned as you struggle to prise the meat from the shells, evolution certainly did a good job with the crab!

A few surprises…
Whilst in Kampot we considered it our duty to visit as many dining establishments in town as possible and to my surprise discovered both the best ribs and the best scones I've ever eaten! The pork ribs served up by the Rusty Keyhole are absolutely huge!! You only get 3 ribs in a 'half rack' portion but they are the meatiest, best cooked three ribs you'll ever eat, smothered in the Rusty Keyhole's own barbecue sauce. The second surprise was the scones produced by Epic Arts, big, freshly cooked (served still warm), with the perfect soft yet slightly crumbling texture and served with delicious homemade jam. My only regret is that I didn't manage a second one!

Fruit shakes
Fruits shakes feature on most menus in both Laos and Cambodia. These delicious fruit "shakes" are essentially fruit smoothies with fresh fruit of your choice blended together with either coconut milk (my preference), regular milk or yoghurt and ice. A refreshing way to recharge after a day of sightseeing.
Pineapple palm wine
Pineapple palm wine (8%) tastes pretty much as you might expect, like alcoholic pineapple juice. It's easy to drink and definitely worth a try whilst you're in Cambodia. Palm wine is produced by fermenting the sap collected from palm trees, the pineapple variety is presumably made by adding pineapple juice to the palm sap.
Cambodia has definitely supplied more mouthwatering South East Asian delights, next stop Tom Yam and Thai curry!
Laura