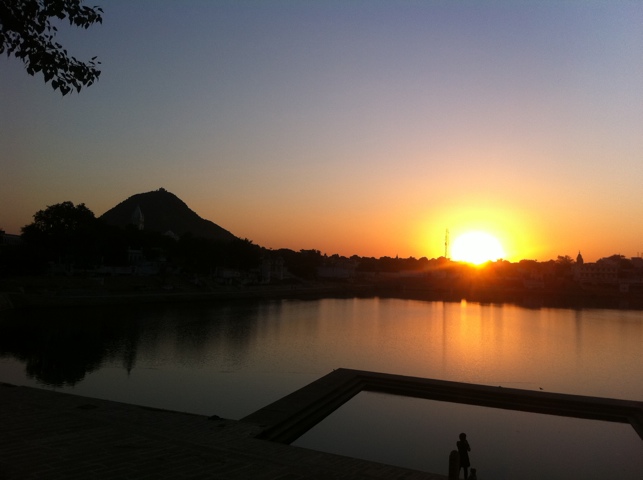 We've spent the past few days relaxing in the holy city of Pushkar, so called because it was here that apparently Lord Brahma dropped a lotus flower (pushpa) from his hand (kar), forming three small lakes where it fell. So religious is the town that the guidebook and signs around tell us there's no consumption of meat or eggs or alcohol, and no smoking, or wearing of leather near the water's edge.
All activity in the town centres around the lake. Waves of pilgrims bathe on its shores, and splashes of tourists watch the beautiful sunsets upon it, listening to rapid drumming while distant sounds drift over of the devoted chanting and temple bells ringing.
Pushkar's reputation precedes it, and my friend Laura from Brighton had warned us of the 'Pushkar Passport', a band of red thread worn around the wrist to signify that you have made a donation to the priests that pray (or perhaps prey) on the shores. If you don't have one, you're continually hassled for your contribution – or so we're told; fortunately we were both still wearing bands from various Hindu temples we'd visited (and donated to) in Jaipur.
One day we took a mandatory clockwise tour of the lake on foot, barefoot due to its holiness, and discovered for ourselves the true heat of the sun. On some beaches elsewhere you might hope to find the delicacies of seared sole; here it was seared soles – of our own feet! As we hopped across the scalding stone ghats around the water we found ourselves hunting for the sanctuary of shade and certainly completed the tour in a quicker time than expected.
We also rose early one morning (although not pre-dawn as was suggested) to visit the hilltop Savitri Temple, with wonderful views over the town and surrounding desert farmland. From here we could see the first preparations under way for the upcoming camel fair in November – a time of huge festivity alongside trade, with some 40,000 animals changing hands.
Unfortunately, for us, this was truely the best view we got of Pushkar – for up close we didn't feel as favourable about the place. Perhaps we had mistaken expectations about it from the descriptions we'd heard and our prior enjoyment of the lake at Pokhara in Nepal – but it didn't quite strike a chord with us. Firstly, let me correct the idyllic image of a lake shrouded in greenery, for it is actually entirely surrounded by concrete steps – forming ghats that pilgrims can use to descend to the water, but in stark, drab concrete nonetheless.
Then there's the adherence to those codes of consumption I mentioned earlier. We were a little surprised, given the understandably negative hindu view on leather, and very positive ban on smoking, to find the streets jam-packed with (I kid you not) leather goods sellers – probably the most we've seen in India – interspaced with vendors offering us cartons of hundreds of cigarettes – again, a first since we entered the subcontinent. And it didn't stop there, for this was also the first place we've been openly offered drugs (of the illegal variety) in the street. Fresh from this encounter we withdrew to a cafe to find on offer pancakes and omelettes (presumably made with eggs), and as we were leaving the promise from the owner that if we returned in the evening they could also provide us with (illicit but discrete) beer or whisky. Pretty much the only rule we didn't witness flouted was that of 'no meat', although that stricture apparently didn't make it to the mosquitos who apparently feasted on us the other night!
So, all in all a little disappointing! Fortunately, the place we were staying had a serene garden away from the madness outside and we spent a great couple of afternoons relaxing in the sunshine, scrapbooking and reading, although not quite brave enough to try the refreshing but filthy swimming pool they had!
On our final walk through town before departing this morning, we had one last surprise – and another first for us. Cobras! I've seen it in the films, but I'd never seen it in person – there's nothing quite like the shock you get from realising the guy standing right next to you in the street with that innocuous woven basket in his hands has just lifted the lid off to reveal a shiny, black, hooded cobra rising up with its tongue out in greeting. I think it's fair to say that this was the final straw for me – and I was delighted to soon be on a bus for Ajmer and then train to Udaipur, about which we'll fill you in next time!
Simon