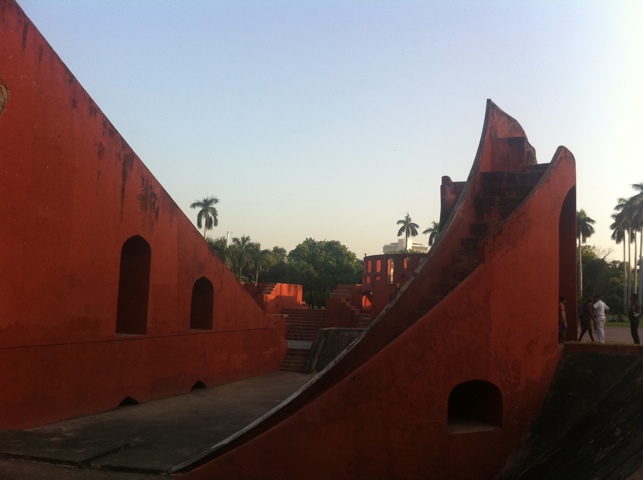 Ah hello! You join us aboard the New Delhi Shridham Express, on the way to Agra. The train's currently running 2 1/2 hours late, but it is finally moving – and so are we, after a few days to gather (no, not find) ourselves in Delhi.
So, India! It's lived up to most of the stereotypes so far: hot, dusty, dirty, noisy, crazy, and we've both managed to welcome in a new country with its common embrace, Delhi Belly. But on the positive side, the colours are vibrant, the sightseeing awe-inspiring, and we're warming to the place – especially when not isolated by air conditioning!
It's hard to capture the sheer feeling of mayhem and confusion you get walking down the street here, but let me attempt to paint the picture. Firstly, the road itself is fashioned from tarmac which has given way to dirt and is decorated with potholes and bumps, and stones and rubbish – so the vehicles are weaving their way along, often on the wrong side of the road to find a clearer path. Ah, yes – the traffic! A combination of hand-pushed carts laden high with boxed goods, bicycles with their bells brring-brring their presence, and horn-blaring rickshaws – cycle-pulled ones like a horse and carriage (with the horse swapped out) in a variety of colours, and a sea of green and yellow auto-rickshaws, essentially a motorbike with some seats and two extra wheels attached to the back. Plus the odd cow, generally emaciated and munching away on the rubbish, often right in the middle of the busiest of roads. Oh, and cars, taxis – and the occasional huge Tata lorry or bus that seems determined to squash you. Did I mention there's no pavement? Actually, that's not quite true – sometimes there is a pavement, but only one that truly existed in the architect's mind, as if the builders didn't quite know what it should look like and had to guess. Invariably if it does exist, it's practical in plan view only, for it'll be 2 feet up from the road – and when you do clamber up (stepladders are not provided), it's already in use – open manholes into sewers, storage for piles of boxes, chairs for security guards, fences, electricity cabinets. We've come to the conclusion (like everyone else) that it's safer amid the melee on the street!
We were staying in the Pahan Ganj, the tourist area of New Delhi, which is probably the most tourist 'friendly' place we've been to so far. And by 'friendly', I really mean 'blood sucking' (vampire squids be warned), at least in any conventional sense. Essentially along with the aforementioned street chaos, everyone is shouting in your direction, trying to extract money from you, whether you look interested or not: "Rickshaw? Rickshaw? I give good price. Taxi to Red Fort? Cheap Hotel! Nice bracelet, authentic jewellery. Dinner sir, western food? Weather raining in England! Indian Helicopter?" (that last one's a more entertaining name for a rickshaw). It's quite like the Thamel area of Kathmandu – but with more traffic and pestering – and more heat.
Interaction with those on the street is further confused by the genuine attempts of some people to be friendly and start conversations – uninhibited by the norms around privacy you'd expect in the west. Unfortunately these all seem to consist of the same stock phrases – "You arrive Delhi when? Ah, welcome to
India! In India how many days? Where next stop? How many children you have?" It's easy to want to be rude to everyone and shut it all out – but some of this (and the hard thing is working out which bit) is actual well-intentioned inquisition and could be great. We're hoping that elsewhere in India we'll find fewer touts and more obvious friendship!
As you can probably tell, it's been a fairly stressful few days alongside the feverish stomach aches! We did manage to see a few sights while were were in Delhi though, which were more than worthwhile.
First up, the Jantar Mantar, an open air observatory built in 1725, essentially a park filled with huge stone structures used to calculate time and various astrological measurements such as the diameter of the sun. The structures are a mix of towers and arcs, with a couple of small colosseum-like buildings too, each with a tower in the middle, casting a shadow which was then measured. The bright red sandstone is very distinctive of the area, and set against the shining white surfaces and steps used for the calculations, it looked amazing. Apparently the sundial could report the time of day within two seconds!
We were especially pleased we made it here given we'd been warned off by various locals that there was nothing for a tourist to see. There's also a con in some parts of Delhi where one scammer squirts poo on your shoes, and then another person turns up, kindly offering to clean it off for an extortionate fee. Given we were both wearing sandals we were very happy we didn't fall victim to this one!
The following day, despite protestations from rickshaws that it was definitely closed, we went to the Red Fort (which was most certainly open, and teeming with people). A huge red sandstone Mughal monument, it used to be the centre of government and home to the emperor, with 2km of ramparts and numerous internal palaces, which used to have an artificial stream running through the middle of them. There was also a museum about India's struggle for independence from the British – which was inspiring for the incredible non-violent struggle led by Gandhi. It was slightly odd being Brits going round the museum and being unsure how to respond – compounded by various people asking for our photo with them. Laura and I weren't quite sure if we should be posing as colonialists or not!
We also went to the 'Sound and Light Show' at the fort, which just about met the spec – there was sound (surround sound, no less), and they did illuminate the buildings with coloured lights, but it was a little underwhelming. The narrative, about the history of the fort and the Mughals was at least interesting – and the choice of English at times hilarious, the highlight, about the Empreror falling for a concubine: "The King loved a slut". It was also pretty astounding to hear the tale of how the Mughals had been laid to ruin by a Persian invader, who essentially ransacked the riches of the city, including a beautiful peacock throne while the king emperor spent his nights and days partying instead.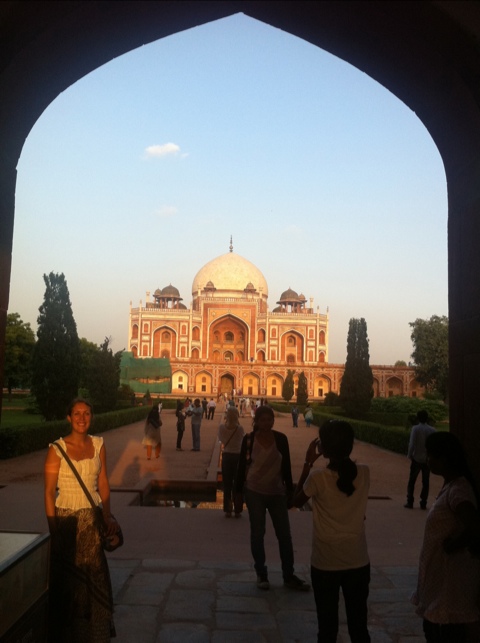 Delhi also has a precursor to the Taj Mahal – a mausoleum known as Humayun's Tomb. It was amazing – a beautiful silhouette against the late afternoon sky, with gentle chutes of water running toward it. Its tranquility was everything the rest of Delhi was not, and it was a lovely escape. On the way there we were touched by a bit of honesty and hospitality – a rickshaw driver pulled up beside us and offered to give us a lift for the final 10 minutes walk for free. Thick skinned from the numerous other rickshaw encounters, we were dubious and took some convincing – but he told us that we were doing him a favour as he needed to pick someone up from our destination and was duty bound to stop if anyone had flagged him down while empty. Dubious, we thought, exhausted we stepped in, and successful we were! It really brought a smile to our weary faces!
And finally, the Gandhi museum, at the home where he spent the last half year before he was assassinated by extremists. It's hard to overstate the significance that Gandhi has to India – he's universally credited as being the father of Indian independence, and achieved it in such a positive and refreshing way – demonstrating that non-violence can be such a force for change. The museum more than does it justice and was enthralling. There were the usual rooms packed with images and lots of text about him, as well as a tour of his living quarters – and more eerily the final footsteps he took before he was killed. But the highlight by far was upstairs – a fairly newly opened digital interactive museum, which was brilliant! They'd used every imaginable way of encouraging interaction with the exhibits – singing, plucking a harp, steering a train, holding hands, turning wheels, moving screens over timelines, and it worked so well! We only wish we'd had more time to spend here – thanks to Ruth for recommending we visit.
I'll leave you with a photo of an exhibit at the museum – "See no evil, hear no evil, speak no evil". One of Gandhi's few possessions was a model of these three, a fitting tribute to a positive attitude in life.
Simon